Stratton Mountain Specifies Hubbardton Forge Lighting for Their Ski Lodge
Stratton Mountain

is about an hour's drive southeast of the Forge and in Vermont terms, that practically makes us neighbors. And like good neighbors, Hubbardton Forge and Stratton Mountain helped each other on a recent expansion of the Base Lodge of the beloved resort. The resort provided an amazing design canvas and our lighting filled in the picture.

"Our Base Ski Lodge was built in 1961, so when we were given the opportunity to do a major renovation it was important for us to maintain the quintessential Vermont look and feel that our guests expect. We made a conscious decision to source Vermont-made products where we could. When it came to lighting for the lodge, we really wanted to work with Hubbardton Forge from Castleton, VT. Not only could they provide the look we envisioned, but their work ethic and professionalism exceeded our expectations."
John Lapointe – VP of Retail/Rental Operations – Stratton Mountain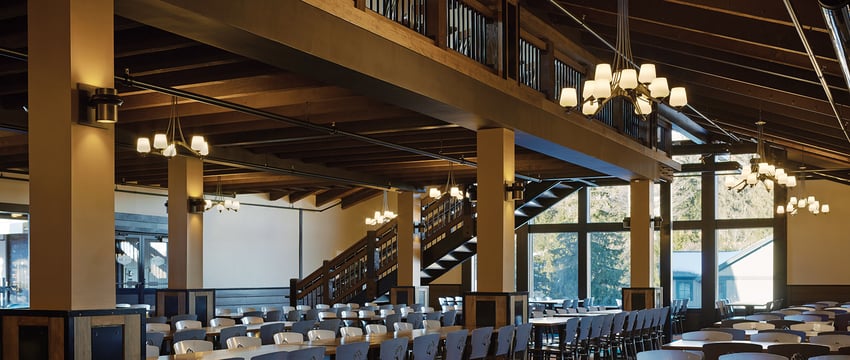 "The renovation was all about the guest experience. The Base Lodge sees the most traffic in the Village, welcoming guests whether they are visiting for the day or the week. The goal was to open up the space and improve the flow for visitors as well as giving them more space to enjoy downtime. When it came to the lighting choice, we really only ever considered Hubbardton Forge. Stratton Resorts has always been committed to using local products and trades. The Stratton team visited the Forge and really never looked back. The style and design were exactly what they wanted. The Forge worked with us every step of the way, meeting our tight time frame. The quality of the product lived up to its name and the assistance from the HF team was priceless." Kerry Udinski – Interior Design at Design & Supply Co., Inc. – Designers for Stratton Ski Lodge Project
Stratton chose our Twilight Outdoor Sconce, Twilight Outdoor Semi-Flush, Ribbon 5-Arm Chandelier, and our Ribbon-12 Arm Chandelier. In all, 130 Hubbardton Forge Lighting fixtures were installed during the update to the lodge. Grizzly's Bar and Restaurant's update also used HF fixtures, including the Staccato Low Voltage Mini Pendant and made the cover of our Commercial Lighting Catalog.
The work on the Base Ski Lodge included a larger kitchen to better serve the expanded Grizzly's Bar and Restaurant, a new serving area, and a new coffee shop, according to Stratton. The update incorporated state-of-the-art kitchen equipment and 100 percent recycled carpet.
The ski lodge project was finished in time for a grand reopening, complete with live music welcoming visitors, on December 19th. We are proud to be a part of Stratton's history and thrilled to have our lighting shining on a new generation of snow enthusiasts in the winter or visitors throughout the year coming to golf, see Vermont's fall foliage or enjoy the atmosphere of the Green Mountain State.