Effortless Downsizing with Luxury Lighting: A Stunning Interior Transformation by Bon Brise Design
Step into the world of Nancy Snyder, the creative force behind Bon Brise Design, as she orchestrates a remarkable interior transformation for her clients. With the kids off to college, the clients sought to trade their multi-story urban residence for a vibrant top-floor condo exuding contemporary charm. Nancy masterfully achieved this vision, infusing the space with a strikingly unconventional twist that resonates throughout.
"The uniqueness of the Hubbardton Forge fixtures really shows in every single piece. They have a timeless elegance, and the predominance of natural materials really translates well to so many different styles. I chose Hubbardton Forge for a very modern condo, and all of the fixtures are just beautiful in this setting."
- Nancy Snyder, Bon Brise Design
Discover the allure of Hubbardton Forge's fixtures, where timeless elegance meets the prominence of natural materials—a perfect match for diverse styles. Nancy's choice of Hubbardton Forge lighting for a modern condo elevates every room with exceptional beauty. The contemporary condo boasts a captivating array of design inspiration, including the Corona pendant in the entryway, Erlenmeyer Pendants in the kitchen, Airis sconces gracing every corner, and a magnificent Cirque Chandelier adorning the bathroom. Explore the art of 'Downsizing With Style,' where sleek sophistication takes center stage.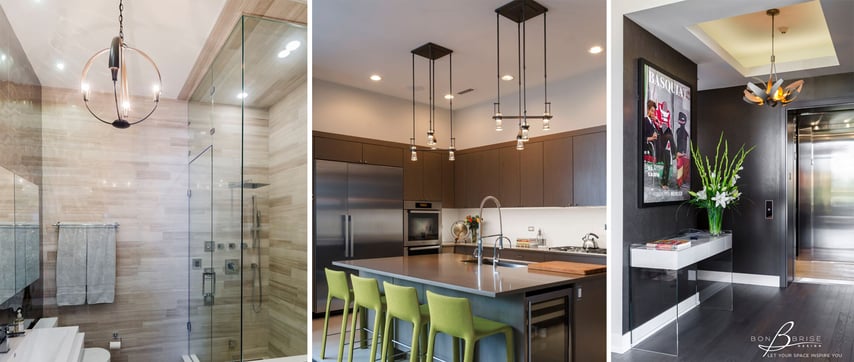 "Hubbardton Forge designs distinctive, creative and contemporary lighting that I feel are some of the most well-made, substantial and unique artistic lighting fixtures available."
- Nancy Snyder, Bon Brise Design