Custom Luxury Lighting: Cityscape Collection Shines at Fairfield by Marriott NYC
Experience urban elegance at its finest with the Cityscape Collection. Adorning the reception desk of Fairfield by Marriott New York Manhattan/Central Park, an extraordinary 18-ft custom lighting fixture, inspired by the Cityscape's allure, welcomes guests with a breathtaking "city view." This visual masterpiece captures the essence of skyline silhouettes reflecting upon tranquil waters. Taking Hubbardton Forge's famed Cityscape Lighting Pendant to new heights, our Customs Team ventured to craft an extended version that seems to defy gravity, hanging majestically mid-air.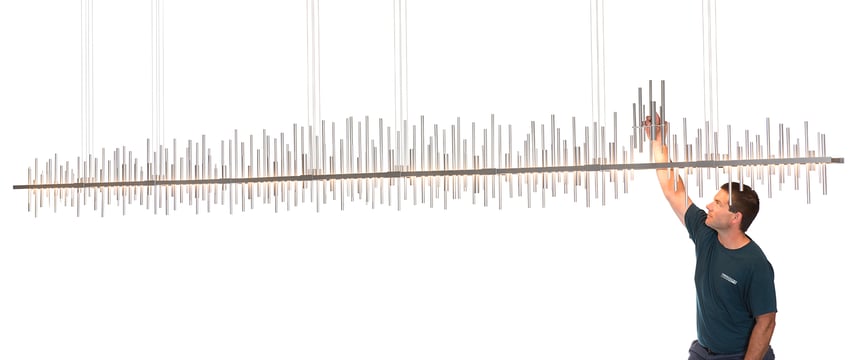 Hal Brown, Hubbardton Forge's Custom Sales Engineer, reflects on the complexities and triumphs of this project: "Designing a custom lighting fixture goes beyond aesthetics. We tackled intricate engineering concerns, from electrical schematics to weight distribution challenges, and even considerations for applying finish to such a grand piece. The journey also encompassed packing, shipping, and on-site installation logistics."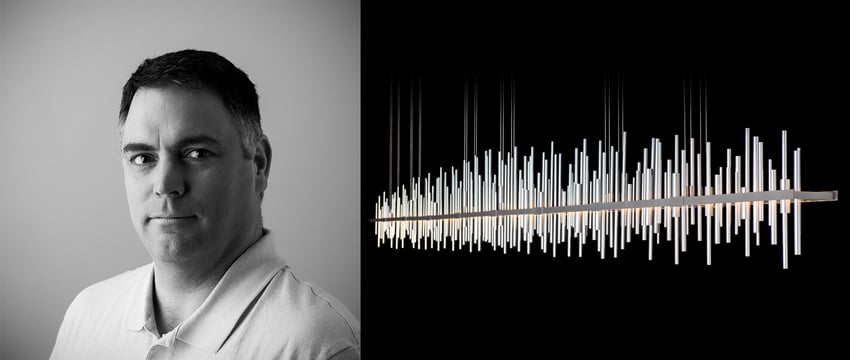 The meticulous dedication of our Customs Team yielded remarkable results. The fixture's decorative elements boast a graceful taper, shorter at the edges, ascending in stature towards the center. The pendant is adorned with steel rods piercing LED light-guide platforms that span its entirety, bathing the space in a gentle wash of upward and downward light. This illumination not only enhances aesthetics but also illuminates the reception area with functional lumens. "This project posed its trials, yet the sense of accomplishment upon completion was truly rewarding," Hal fondly shares. "The end result exceeded expectations and brought immense satisfaction to everyone involved." Discover the intersection of luxury, innovation, and customization with the Cityscape Collection—a testament to the artistry of bespoke lighting.
Envision Your Own Spectacular Creation: Explore Custom Luxury Lighting Today!
Ready to transform your space with a lighting masterpiece that's as unique as your imagination? Discover the art of customization with Hubbardton Forge's Cityscape Collection. Whether you're dreaming of an 18-ft grandeur or have your own visionary design, our Custom Team is here to craft the extraordinary. Illuminate your surroundings with the allure of bespoke luxury and innovation that captivates. Contact us to bring your vision to life and elevate your space to new heights!