Gilberte Interiors Appreciates Custom Lighting Made in the USA
Cheryl Boghosian and her brother Aharon have design in their blood. Their mother, Gilberte was raised in Marseille, France and studied women's couture fashion. Her passion for design eventually spilled over into interiors as well. Andy Boghosian, their father, was an engineer, had a knowledge for solving technical challenges, and recognized the demand for quality interior design services. Together in 1967, they brought their vision to life by creating Gilberte Interiors. We recently interviewed Cheryl, and asked her to share her family's unique success story with us.
HF: Gilberte Interiors has been in business for over 50 years. Could you tell us more about the company and how it has evolved since your parents started the showroom?

CB: Fifty years ago, my parents, Gilberte and Andy Boghosian took the first steps in what became a journey for our entire family. They opened a small storefront and fabric workroom in Hanover, NH. Throughout the years, our mission has remained the same—creating stunning and functional interiors that fit the individual needs of our clients. From small renovations to working with a team of architects, contractors and specialists, we give insight and have the experience to solve design challenges. Today, my mom is still an everyday part of the business, and Gilberte Interiors continues to flourish. Our design center has grown to 3 floors—housing retail, an extensive design library, a complete bath and kitchen showroom, and fabricating workrooms.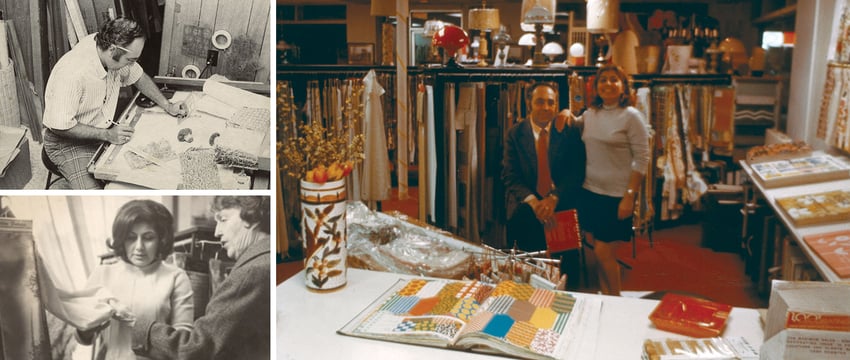 HF: What is your process for solving your client's design challenges?
CB: The process begins by keenly listening to our clients. We are an ASID accredited design firm able to design, solve interior challenges, fabricate, and then deliver and install their projects. We provide a comprehensive and unusual set of services. We oversee the entire process, working with our clients and their construction teams from conception to completion at no additional cost beyond the materials and products. We pride ourselves on having extensive knowledge and experience along with the latest products and materials. Our continuing education of industry trends and materials through seasonal trade shows, trade and design publications, and architectural trends provide new inspiration to create fresh ideas and designs based on traditional foundations.
HF: Your "Beach House", "Modern Family Makeover" and "South Strafford, VT" projects featured on your website are beautiful. What are some of your favorite things about these projects?
CB: Each gave us the opportunity to meet interesting clients with their individual goals and lifestyles. These projects reflect the variety of clients and project challenges we incorporate in our daily design work. Spending time getting to know our clients is clearly a highlight for us. Then, the challenge is to transform the spaces to reflect their lifestyle while still paying attention to the "bones" of the houses and sites. It enables us to create a "home".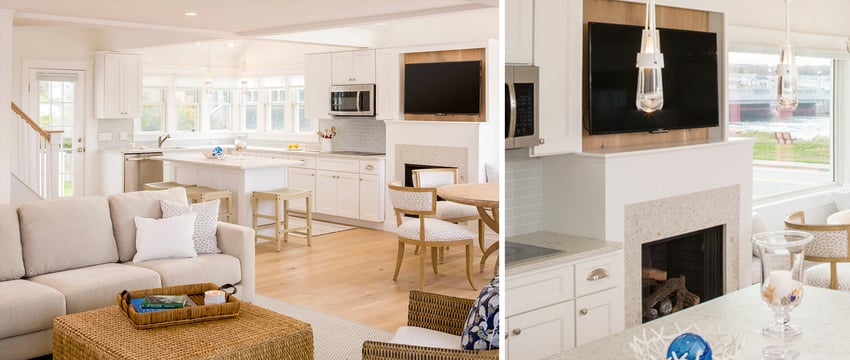 HF: How did Hubbardton Forge come to be included in these projects?
CB: With each of these projects, Hubbardton Forge's fixtures were without a doubt the right solution to each space. From function to aesthetics we gravitated immediately to selecting from such a great collection of fixtures. The ability to change finishes (and with the option of white!) let us customize the lighting to both enhance and punctuate a space.
HF: What are some design challenges you've faced recently and how have you addressed them?
CB: We have always strived to use natural products and those fabricated locally when possible. Finding materials that use less processing, are more "green" and are made in the USA continues to keep us updating our library so that we can offer those to our clients and their projects. Hubbardton Forge has been a terrific source for lighting—using LED technology and fabricating in New England.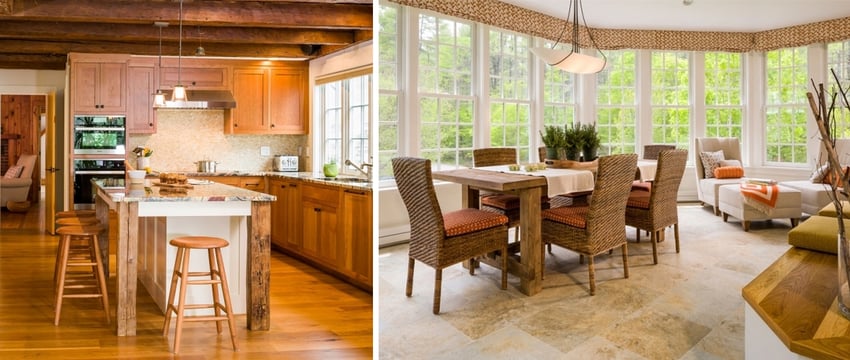 HF: New England has such rich history and architecture. How do you respect the integrity of an aging structure when planning a renovation, while bringing it into modern times?
CB: This is a challenge that probably sparks my design interest most. I work with an eye on the project structure, location and scale before moving to design solutions. Enhancing where these began and how to respect the history is always an important step in good design. The modern lifestyle needs flexibility, flow of spaces, and incorporation of technology. We all are working at a faster pace (the digital world!) and helping our clients balance that with some "downtime" can be achieved thru design.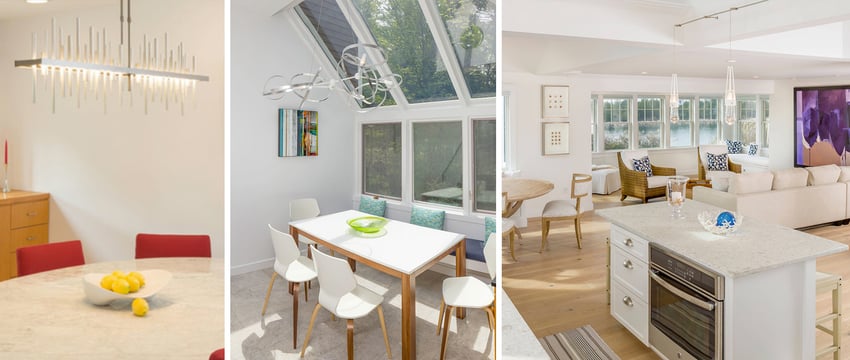 HF: If you could pick your dream project to design, what would it be?
CB: Combining the Historic with Modern Design hits a personal note for me. A project that consists of an older structure, not necessarily originally even a home (think barn, schoolhouse, mill) and creating a home or workspace is a challenge allowing me to bring in a full range of design skills together. Materials, color, and lighting can make all the difference in how these spaces are transformed. Lighting can guide everyone into the spaces, create a sense of scale and transition, and then be adjusted for function. Hubbardton Forge has really allowed us to rethink lighting styles, both traditional and modern, and let our design sensibilities flow!
Featuring: Flux Pendant, Link Mini Pendant, Wren Mini Pendant, Draped Loop Pendant, Cityscape Pendant & Celesse Pendant