The Stunning Shard Sconce Lighting: A Fusion of Creativity and Sustainability
The Shard Sconce is a testament to creativity, sustainability, and inspired design. Handcrafted with care and precision, this sconce embodies the fusion of metalwork from our forge and hand-blown glass expertise from our local partner, AO Glass. It's a success story of innovation, giving new life to glass pieces that don't meet standard dimensions or encounter crafting mishaps.
Discover the Charm of the Shard LED Outdoor Sconce
Our Large Shard LED Outdoor Sconce showcases the allure of grey-colored shards beautifully embedded in thick hand-poured clear glass blocks, meticulously crafted by the talented Vermont artisans at AO Glass. The LED light dances through the glass, casting a captivating glow that exudes elegance and charm. This captivating luminescence not only enhances outdoor spaces but also brings a touch of enchantment to indoor settings. Now available in our New Coastal Outdoor Finishes, the Large Shard LED Outdoor Sconce is a sight to behold.
The Shard Small LED Outdoor Sconce, another brilliant creation, features the same grey-colored shards delicately embedded in thick hand-poured clear glass blocks, skillfully crafted by the local Vermont artisans at AO Glass. The Shard Small LED Outdoor Sconce is a timeless masterpiece.
"where creativity meets sustainability in a harmonious dance of light and glass"
Embrace the Unique Appeal of the Shard
The Shard Sconce lighting collection is a true reflection of ingenuity and artistry. With its innovative use of rejected glass pieces from the Lure chandelier, each sconce carries its own distinctive charm and character. Handcrafted by skilled artisans, the Shard Sconces exemplify the perfect blend of creativity and sustainability, making them not only visually stunning but also environmentally conscious choices for your lighting needs.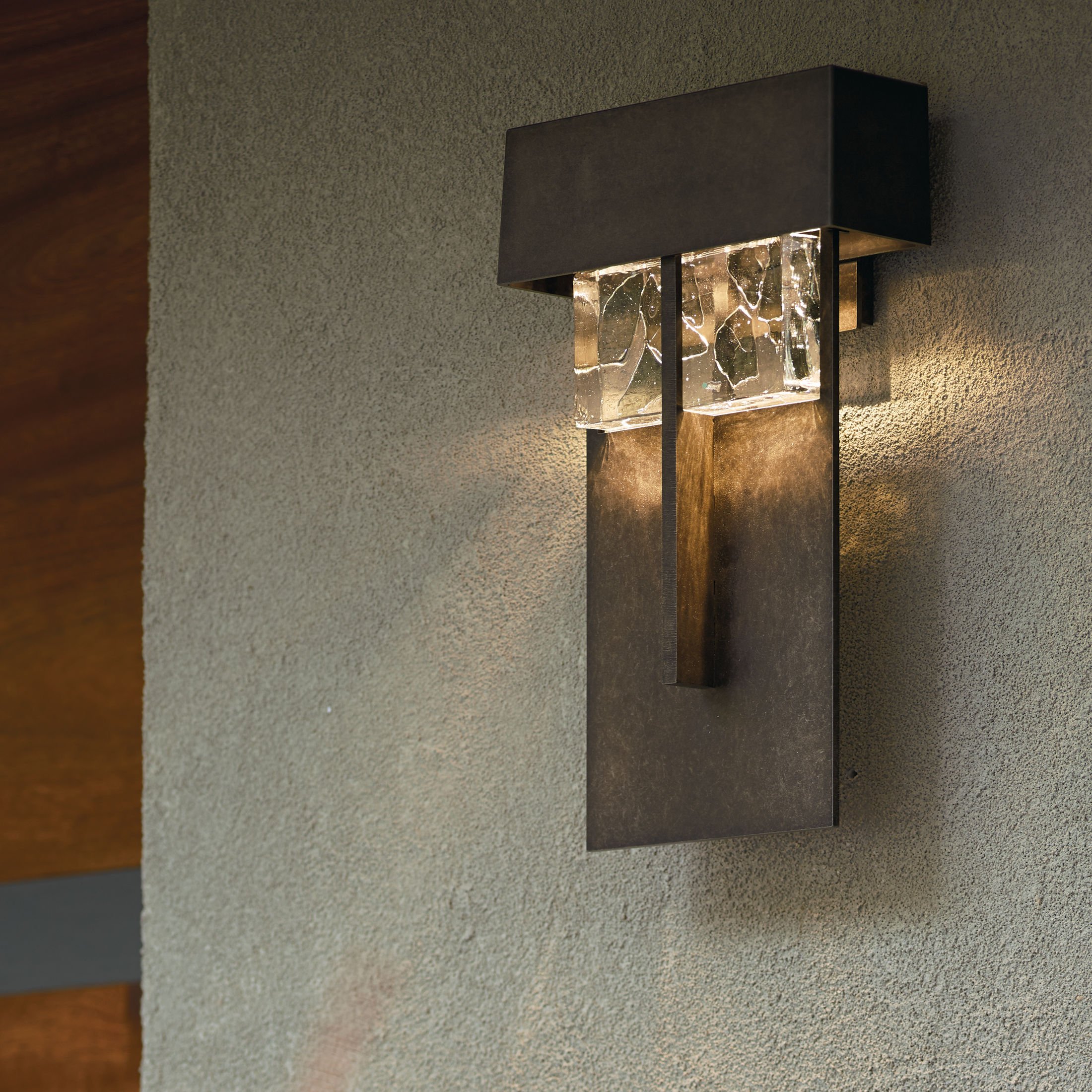 Illuminate Your Space with Shard Sconce Lighting
Elevate your space with the captivating beauty of Shard Sconce lighting. Embrace the artistry, creativity, and sustainability behind these remarkable fixtures, brought to life by the skilled hands of Vermont artisans. From the XL Shard LED Outdoor Sconce's mesmerizing glow to the charm of the Shard Small LED Outdoor Sconce, these sconces leave a lasting impression on any space they adorn. Experience the unique appeal of the Shard Sconce collection and infuse your surroundings with brilliance and sophistication.