DKOR Interiors
This month, the spotlight is on DKOR Interiors based out of North Miami, Florida. The team talked about the work behind a waterfront property with "contemporary elegance."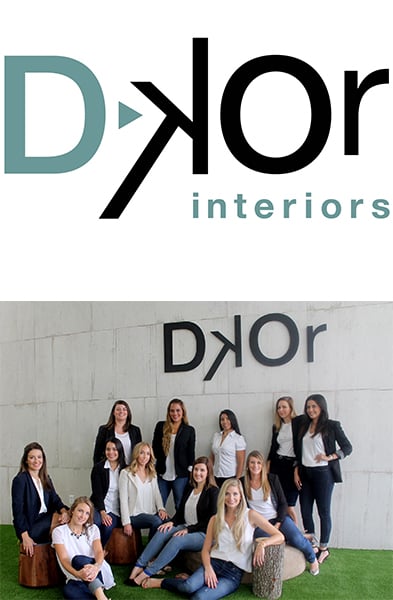 HF: What were the biggest challenges around this design?
DKOR: The client lived in northern weather and was very excited to have a home in a tropical climate that would reflect that "beachy" tropical elegance. Through the design, we wanted to bring in the tropical vibe without being too literal and theme-like. The other challenge was creating the balance of a fully designed house that had the comfort and effortless feeling of 'home.'
HF: How did you address those challenges?
DKOR: As part of DKOR's design method, we approached the home in three phases. The first phase began architecturally with an emphasis on bold design. The second and third phases, furniture and accessories, are how we created the balance of that feeling of 'home.' Each room is a curated balance of modern furniture, color, and eclectic accessories.
We kept the material palette cohesive. The fresh honey wood veneer became a staple throughout the home. We gave the home a masculine, bold touch by adding details in charcoal and black satin. To complete the look, ocean colors were introduced through accent tiles and accessories.
HF: What aspect of the design is a favorite?
DKOR: It's tricky to pinpoint an exact element as a favorite. What we love about this home is how the selection of furniture and accessories took the design to a whole other level. The installation and styling days were like a dream. Every furniture piece, texture, accessory, and light fixture, just gave the architecture of each space a whole new meaning of home.
HF: Is there a style DKOR is particularly known for?
DKOR: It's not so much a style so much as a feeling. Our goal is to represent the client's style through timeless practical elegance that is warmed up with the use of natural materials.
HF: How did Hubbardton Forge get included in this project?
DKOR: When in the selection phase, we enjoy creating a look from pieces from different vendors and a few styles. The chandelier of the dining room was a tricky selection because it needed to complement the slatted ceiling design feature over the living room. We love that the Quill is unexpected for over a dining table. It has a subtle fierceness to it with its unique shape and finish. It was one of those where we had to trust in the mood of not playing it safe.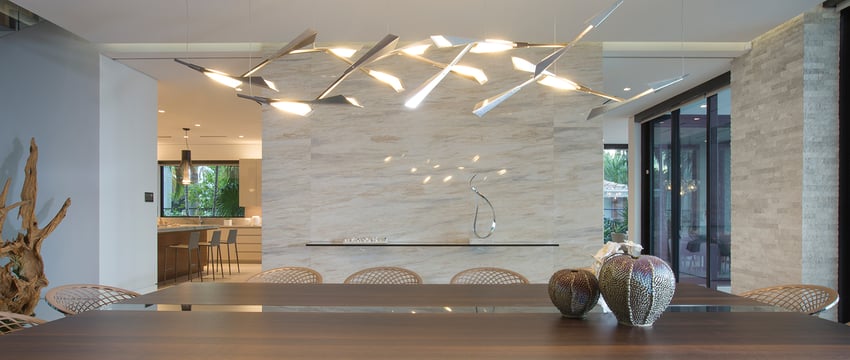 PROJECT FEATURES: QUILL LED PENDANT