Archetype Design Studio
DESIGNER SPOTLIGHT: The July spotlight is on interior designer Randy Snell, of Archetype Design Studio based out of Pittsburgh. Randy shared some stories from his interior design career. He also talked about some design challenges and how he overcame them.
Meet Randy Snell, the talented interior designer behind Archetype Design Studio in Pittsburgh, as he discusses his journey in interior design. Randy reveals his artistic roots and inspiration sources, including his fascination with nature and travel. His versatile design style, ranging from traditional to contemporary, is rooted in function and comfort, driven by clients' needs. His favorite part of the job? Installation day, where visions come to life. Discover why Randy chooses Hubbardton Forge lighting, such as the Mackintosh Large Pendant and Oceanus Sconces, to enhance his design projects. Lastly, he hopes for a return to investing in high-quality furnishings, a trend that emphasizes lasting value over disposability."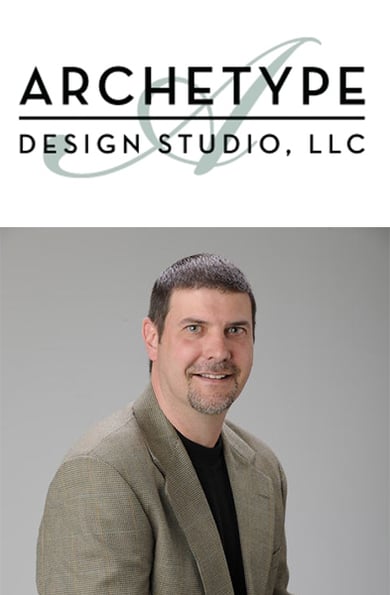 HF: What inspired you to pursue a career in design?
RS: I have always been artistically talented. My parents still have drawings I did in 3rd grade of house exteriors in full perspective. I knew from a young age that I wanted to do something creative with my artistic skills. It was either architecture or interior design. In my senior year of high school, I entered and won a design contest from the Art Institute which provided me with a scholarship to study interior design. Now, 28 years later I still love the profession and know that this is what God wired me to do.
HF: Where do you get your design inspiration?
RS: Everywhere! I go to the obvious places if I am looking for inspiration, like design magazines, websites, etc. However, I find that most times inspiration comes when I am not looking for it. I see inspiring things everywhere, when I travel, on vacation, in restaurants, in nature, and even on the golf course.
HF: How would you describe your design style?
RS: My personal design style is rooted in traditional design. It has evolved over time into what I would classify as a classical-tailored traditional style. My projects however are all over the map, ranging from very traditional to transitional to contemporary. I enjoy the challenge of working with my clients to help them achieve their design style in their homes.
HF: What are the most common requests from clients?
RS: Not just beauty, but function as well. Most spaces today are lived in. The days of the roped-off formal living and even dining rooms are a thing of the past. The trend is to the open floorplan where the kitchen, dining space, and great room are all open to one another and are lived in. There is always a consideration for comfortable, functional furnishings with children, grandchildren, and pets at the forefront of decision making.
HF: Does any challenge you've faced stand out? How did you address the challenge?
RS: A few years back, I was working with a client on their condo which was new construction. In the master bedroom, there was a corner fireplace planned. I told the client, you don't want the fireplace in the corner, it should be straight across from the bed. That suggestion created another problem. In order to locate the fireplace where I wanted it, the thickness of the fireplace unit would stick out on the other side of the wall. Unfortunately, the other side of the wall was open to the two-story family room below. So we had to determine what to do with this odd bump out on the high wall of the family room. The easy thing to do would have been to just put the fireplace in the corner and forget it. But no, I couldn't do that. I came up with the idea of creating a false balcony that looked like something out of the French Quarter. We used red-painted divided light glass panel dummy doors flanked by two exterior lanterns, an iron railing, and a copper roof over the bumped-out portion of the wall. What was a design challenge had become a major focal point in the condo and it is hard to imagine it not being there.
HF: What is your favorite part of the job?
RS: Installation day. The design process is enjoyable, but nothing compares to when you put a room together. There is no way to describe the gratification that comes when what previously was just a vision, becomes real life. That is especially true when it looks exactly as you had expected or sometimes even better.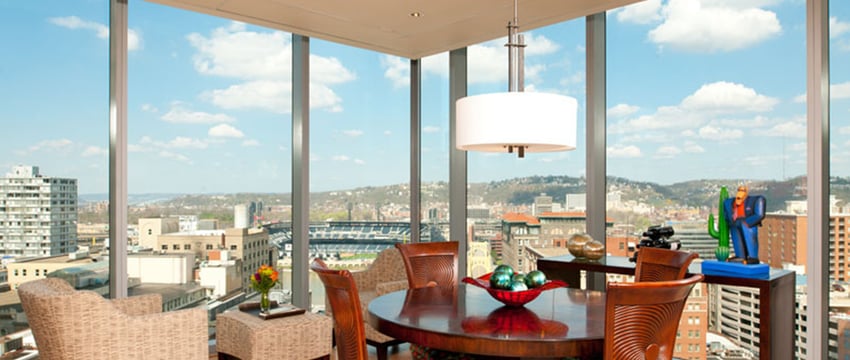 HF: What made you choose Hubbardton Forge lighting for the designs you shared with us?
RS: For the Urban Contemporary dining room project, the client asked for a rustic/modern style. One would think those two styles are at odds with each other, but not necessarily. The architecture was contemporary while the furniture was more rustic like the table with a live edge. I think the Hubbardton Mackintosh Large Pendant bridged that gap nicely. The lines of the fixture are streamlined and contemporary, while the finish is more rustic in nature.
For the City Living Kitchen pendants and the master bathroom sconces, the client wanted a cutting-edge contemporary space, but with elements reflective of nature. In the bathroom for Kitchen and Bath Concepts, the bathroom designer used a ceiling tub filler to give the natural feel of a waterfall. The Oceanus two-light sconces were both functional and beautiful. The lines are contemporary, but the hand-hammered Vintage Platinum finish brought in the element of nature and played off of the combination of materials used in the space.
Similarly, the kitchen's Fullered Impressions Mini Pendants have elements of both contemporary- and nature-inspired styles that work very well in the minimalistic space executed by Kitchen and Bath Concepts.
In the Room with a View dining area, I used the Ondrian Single Shade Pendant over the table as an architectural element. The overall statement in this space is color and the view. I didn't want to take away from that with the light fixture. It blends in nicely with the white shade and the intricate metal work which provides understated elegance to the space.
For the kitchen pendants, we needed something small, functional, and something that brought in some color. The topaz glass in the Exos Delta Mini pendants was just the ticket.
HF: What's one style trend that you wish would make a comeback?
RS: It is not necessarily a style trend, but a lifestyle trend that I wish would return. Many clients have trended away from high-quality furnishings, rugs, and lighting to more "disposable" items. There are many reasons for this trend including cost, lifestyle, and an effort to avoid long lead times due to customization, etc. In years past, clients purchased furnishings as an investment, with pieces that could be passed down from generation to generation. I would love to see that mindset have a comeback.